The day I've been longing for is here finally.
India
takes on
Pakistan
in the finals of the Twenty20 World Cup. And I'm a bundle of nerves. Multiply that by about a billion and that's how much pressure there is on
India
to win today. But i would like to reiterate again that whether they win or lose. They're still champions cause they managed to reach so far and they did all it without anybody giving them even 100 to 1 odds. All this was regarded as was an opportunity for the youngesters to gain some "

experience".

And these youngsters managed to knock out some of their best teams on their way here.
England
,
South Africa
&
Australia
.
I do think India will win today cause they have the psychological advantage after beating Pakistan last time around. And Dhoni's boys always bring it when the pressure is on them.

And these are the people I think Pakistan needs to watch out for :-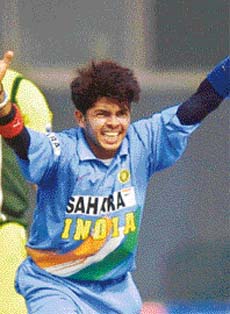 1) Shreesanth :- He played beautifully for India in the last match. Figures of 4-1-12-2 speak for themselves. And his attitude speaks volumes. I love the way he was staring down Matthew Hayden. It felt really good to see somebody give back as good as they got. And not see India keep their emotions in check for once.
2) Rudra Pratap Singh
:- Every time I see him bowl I am more and more in awe. He's gonna be
India
's NO 1 strike bowler someday and I for one couldn't be more proud. Exceptional line and length and he keeps the batsmen guessing. And the best thing of all, he's a think
ing bowler. Excelle
nt game sense.

3) Harbhajan Singh

:-
You can see the effort he puts into every b
all he bowls. How much he thinks about it and how much his he
art goes into it. Everytime its down to the wire, Bhajji delivers.
4)
Yuvraj Singh

:- Almost no words needed there. His performance with the bat has been superlative in this tournament. The fastest 50, 6 sixes in an over. 70 runs of 30 balls. He's done it all. His delivering with the bat today will be vital to
India
.


5)
MS Dhoni

:- The captain. He got into the party with Yuvraj last time around. Smashing two magnificent sixes. Full of energy and common sense. Innovative in his field placements and bowling changes. Hope he manages to repeat the magic today as well
There are other people India will be looking at to deliver too. Robin Uthappa, Virender Sehwag, Gautam Gambhir, Rohit Sharma, Irfan Pathan and Joginder Sharma whom I'm expecting to perform well considering the confidence boost he must have got after the last over he bowled against the Australians.